BRANDSATZ Records - The Home Of Electronic Punk
BRANDSATZ Records is the home of electronic punk music such as EBM and others. And it is the home of some selected artists just like ZWEITE JUGEND, Combat Company, TENSION CONTROL, Eli van Vegas and some more.
News from us and our artists:
22 December 2020
Kollektiv Klee is a new side project of Eli (Zweite Jugend) in which he collaborates with different artists and musicians. A first two track single will be released on December 25th 2020. "Du bist da" comes as a featuring with Jens, well-known as Zweite Jugend's merch angel.
Tracklist:
01. Du bist da (feat. JSBZ)
02. Bitte Bitte Bitte
This single is an exclusively download and streaming release.
In addition to the streaming and download single release, Eli produced an official music video for the song "Bitte Bitte Bitte", also set up to be released on Dec. 25th. Watch out on Facebook and Youtube!
14 February 2020
Zweite Jugend worked with Liss Eulenherz - member of the band Sonorus7 who already has worked with Eli van Vegas - just to release a single on March 6: Die ganze Nacht.
Tracklist:
01. Die ganze Nacht (Duett Version)
02. Die ganze Nacht (Wesenberg Rework)
03. Elektronische Körpermusik (Eli van Vegas Remix)
This single is an exclusively download and streaming release.
Almost everyone could know: You go out, celebrate and are happy with your life and there she / he is on the dance floor, the one person. Could it be butterflies in your stomach that distort your eyes, or is it sincere love at first sight? "You dance for me, I dance for you." A single moment that could last all night, maybe even a lifetime. What is this feeling, what is happening here? "What have you done to me?"
"Die ganze Nacht" in a duet version is the third single released from the album "Electronic Body Music" by Zweite Jugend, which was released on 1 March 2019. After Eli van Vegas has already worked with Liss Eulenherz in his solo project, it was only a matter of time before they let follow a guest partnership in Zweite Jugend. And you couldn't have chosen the guest vocals of a talented singer like Liss better than for this extraordinary love duet. The release comes with two expressive remixes.


Liss eulenherz herself directs and produces an official music video with her company Eulenherz Artwork. A first trailer can be found right here:
29 November 2019
Our hearts from Zweite Jugend released a single today: Flucht von der Erde.
Tracklist:
01. Flucht von der Erde
02. Flucht von der Erde (Outer Space Remix)
03. Flucht von der Erde (Acid on Mars Remix)
04. Flucht von der Erde (ARP Odyssey in Space Remix)
05. Flucht von der Erde (Das Wesen aus dem All Remix) 
This EP is an exclusively download and streaming release.
The year is 2163. The earth is inexorably turned towards its foreseeable end. A lonely cosmonaut - the last representative of his species - has to admit that it is pointless to dwell on his home planet. And he's off.
"Flucht von der Erde" is the second decoupled single from the album "Elektronische Körpermusik" by Zweite Jugend, which was released on 1 March 2019 and caused quite a stir. It is only the beginning of a gloomy time that seems dangerously close to the end. Now the band releases the opener of the album again as a single: An official music video was produced by the singer Eli van Vegas himself, as well as four thematically fitting remixes.


Eli van Vegas himself directed and produced an official music video:
15 October 2019
In collaboration with Liss Eulenherz (Sonorus7) our label signed artist Eli van Vegas produced a first single which is set to be released on November 15: This Time.
Tracklist:
01. This Time

This EP is an exclusively download and streming release.
What if two artists, both well-known for their respective genres, collaborate? One answer might be this upcoming release. Eli van Vegas (singer of Zweite Jugend and Combat Company, both EBM) recently started to produce and release EBM driven and influenced Techno. After performing several live shows and having some DJ sets in 2018 and 2019, he now delivered "Mindset Alpha" as a first EP. But this was not enough and so Eli decided to collaborate with a female singer: Liss Eulenherz (singer of Sonorus7, Future Pop). If you take a look on their careers you might think that these persons should have worked together already. Both are singers, composers, artists, designers, photographers, videographers and performing artists for many years. What if these similar talents collide? The final answer is the first track in a coming series: "This Time".
13 October 2019
Eli van Vegas is set up to release his first solo EP this coming Friday October 18: Mindset Alpha.
Tracklist:
01. Intensity
02. Pleasure
03. Excitement
04. Consciousness
This EP is an exclusively download and streming release.
In 2017 Eli van Vegas (singer of Zweite Jugend and Combat Company, both EBM) started to produce EBM driven and influenced Techno. In 2018 and 2019 some DJ shows and two first live performances followed. But it was in the summer of 2019 when Eli decided to record the very first release for his self-named solo project. "Mindset Alpha" will be released on October 18 2019. It contains four techno tracks and will be the start of a series of several records, all called "Mindset". Apart from that Eli already announced to work on a single track with a vocalist and the coming "Mindset Beta". 
01 December 2018
Finally ZWEITE JUGEND announced to release "Leah und Alissa" with us. It will be a download and streming release taken from the upcoming album "Elektronische Körpermusik" which will be out on March 1st 2019.
Matching Christmas, the Feast of Love, German band ZWEITE JUGEND will release the single 'Leah and Alissa' as download on 21 December 2018. The single is taken from the upcoming album 'Elektronische Körpermusik', whose release is planned for 1 March 2019 as Digipak, Vinyl, Download and Streaming. Currently, the band is finalizing the album and planning the video for the single, which shall be available also on 21 December 2018.
ZWEITE JUGEND is the passion of the two electronic musicians Eli van Vegas (vocals, songwriting, production) and Marcel Lüke (drums, songwriting), who were previously creating music with their band COMBAT COMPANY. Their passion is Punk and Old-School EBM, whereby they do not shy away even from influences of Techno and Pop on 'Elektronische Körpermusik'. ZWEITE JUGEND combines different genres, but always remains minimalistic and produces only analogue sounds. Cynical and profound lyrics in a self-reduced garment have been in the focus of their work ever since the release of the first demo in 2015 as well as of the album 'Liebe ist Luxus' in 2016 with the included EBM hit 'Hoch die Tassen!' and alternate with simple, everyday life content.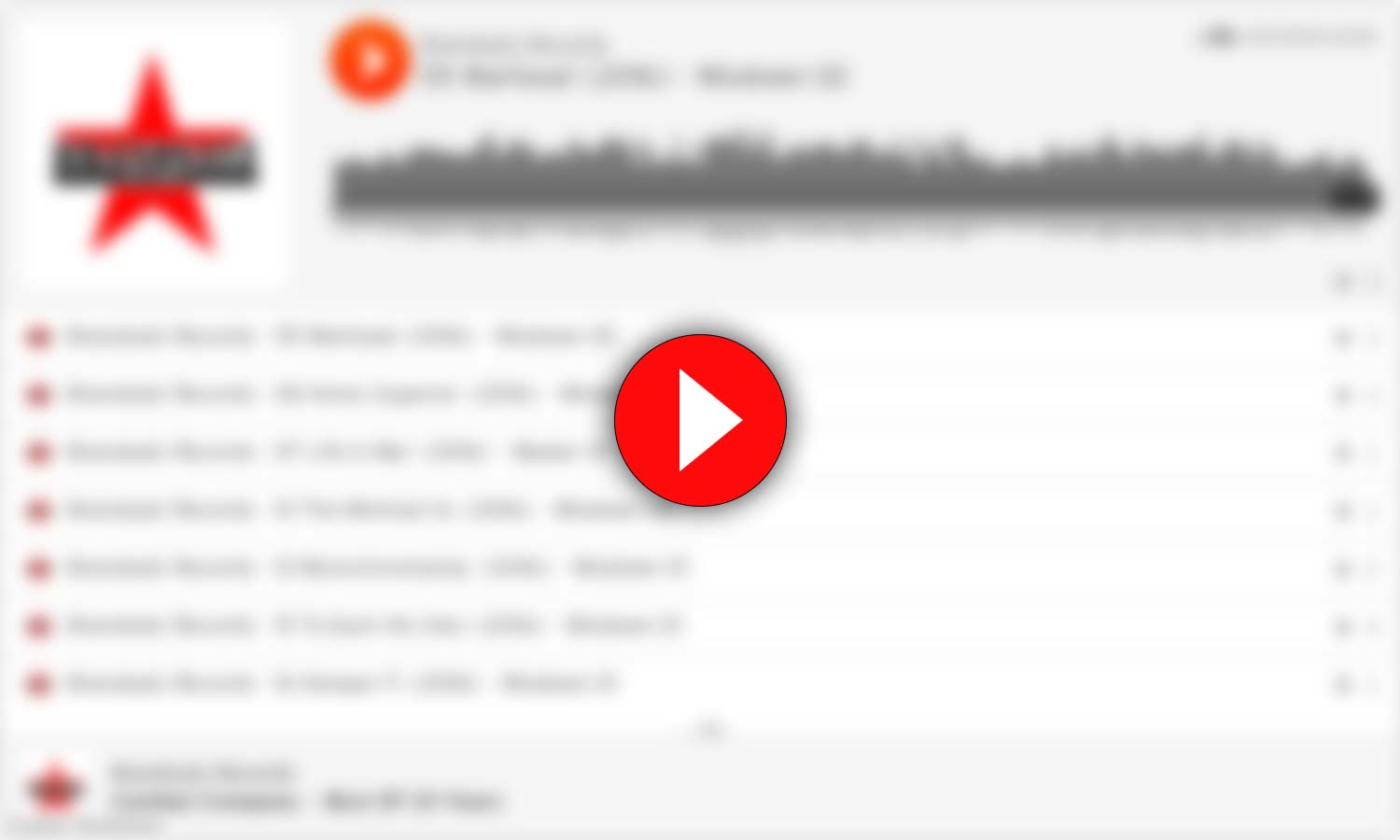 09 October 2017
Our next release will be TENSION CONTRON with the CD LP Im Rhythmus der Maschinen.
Congrats to Michael from TENSION CONTROL to let us promote and release his first official output. This will happen on Nov. 24th 2017 - physical and digital release. We hurry and keep the pressing plant going as fast as possible to hold the physical copies in hands before the show on Oct. 28th. We would pre-sale them on Nov. 11th. at his DAF support slot. Cross your fingers to let this happen!
31 July 2017
The COMPANY is not only back on stage, it is for the record stores as well.
Finally Eli van Vegas has reached out to re-produce a best-of from a decade of the band's history. Finally the instrumentals are almost produced and before the vocals will be recorded, he presents a sneak preview of the artwork to come. The album will contain up to 18 tracks completely in a new - but oldschool - sound just like the single POINT OF NO RETURN released this year on the band's bandcamp page.
If it fits in all the production processes, Combat Company will release this album called BELOW THE LINE on their show in Stuttgart on Oct. 28th 2017.
EDIT: The official release date for BELOW THE LINE limited to 100 copies will be on Oct. 27th 2017.
29 July 2017
ZWEITE JUGEND are featured on the EBM Industries Vol. 1 Sampler (coming on Emmo.biz Records). The band took hands on Hoch Die Tassen! and now release an exclusive edition of the track on this record.
It will be released on Oct. 13th 2017 and there will be a (double) vinyl and a CD. And so far as we know there will be a limited box with the CD, the double vinyl, a poster, a patch, lanyard, membercard, slipmat and a cotton bag included. That's a deal!
Special release event is at the Summer Stomp 2017 in Kassel. Come on over and join this event to grab your package.
06 July 2017
What a night at the Felsenkeller in Leipzig that was.
And it has been the most beautiful and largest stage that our band ZWEITE JUGEND has seen in their short history. WE WILL NEVER FORGET!
Now Liss has finished the post-production of her material, including some pictures of ZWEITE JUGEND. We are absolutely fascinated how talented she is and how close to reality she captured the video.
Watch the music video right here:
30 June 2017
ZWEITE JUGEND have just announced that they will be releasing a new single called Leah Und Alissa with us. Additionally there will be two remixed included: Our new artist Micha (TENSION CONTROL) remixed one of our favourite tracks of ZWEITE JUGEND which will be his first output with us (even if it is a remix). And Eli van Vegas started to remix in a minimalistic Techno outfit by this option to get his new personal solo project supported.
Tracklist:
01. Leah Und Alissa
02. Euroträume (TENSION CONTROL Remix)
03. Hoch Die Tassen! (Eli van Vegas TechnoMix)
We do not know if we release the single as download only or if there will be a physical record, too. We let know know right here and on our Facebook pages.
And the band is already working on their second album, maybe releasing in the beginning of 2018. Still we are organising a tour in 2018, probably supporting a new album then. We will see!
30 June 2017
Today ME THE TIGER are having their great release of the new single "Hollow" (released through RepoRecords) - including an Eli van Vegas Techno Remix of that fantastic track. What a pleasure!
Eli is starting his new solo project with remixing some tracks. This one is for the upstarters from Sweden which is a little more popmusic than the other works that Eli is on at the moment.
Not to say that the Me The Tiger have made a great video for the original track.

Get the complete release right here: Spotify, iTunes, Amazon
26 June 2017
Hier sprich das neue Amerika.
Eli van Vegas had a short travel right to Berlin to capture a new video for ZWEITE JUGEND.
Watch the music video right here:
05 May 2017
WE ARE RIGHT AT THE POINT OF NO RETURN.
Combat Company are back. It has been around two years ago that Homer and Eli have split, now Eli invented to recreate his old baby again and to release a new track that reflects all the years that have passed by and have finally been gone. This release is just the beginning of a new era of the band as he is working on a best-of album which will be completely new produced.
This release is a free download (pay if you want to) on bandcamp.
Get your copy right here: Bandcamp
Additionally we have uploaded the track to YouTube:
12 March 2017
What a beautiful life this one could be for a bear on earth.
At the last Winter Stomp our label band ZWEITE JUGEND organized a special auction of a handmade edition of their album Liebe Ist Luxus. It is limited to three copies and every one is different designed with public domain images of some bears. The three-digit value has been completely donated to the "Alternativer Bärenpark Worbis" and Eli van Vegas himself brought the donation to the park the day after the event (with a horrible hangover).
Thank you for your participation. It might have helped more than you could imagine!
10 March 2017
What a blast every single Stomp in Kassel is.
This time Marcel and Eli performed with ZWEITE JUGEND instead of Combat Company's position as the resident act. And Micha from TENSION CONTROL joined for a guest appearance and was on stage for nothing less than two tracks. He did for another two songs already when ZWEITE JUGEND played their release show back in December, but this was amazing. He learns a lot and is ready for his own stage soon.
17 January 2017
Combat Company have uploaded a new version of Life Is War.
The track was their first output back in 2006. Eli van Vegas reproduced that old single leading the idea to reproduce a collection of former tracks and to release a best-of album with all those songs.
Listen to Life Is War (2017) right here:
29 June 2016
The video debut of ZWEITE JUGEND is finished and released on YouTube.
It was hard work to drink so much and talk to so many people to make this happen. Nothing more to say, but HOCH DIE TASSEN!
Watch the music video right here: